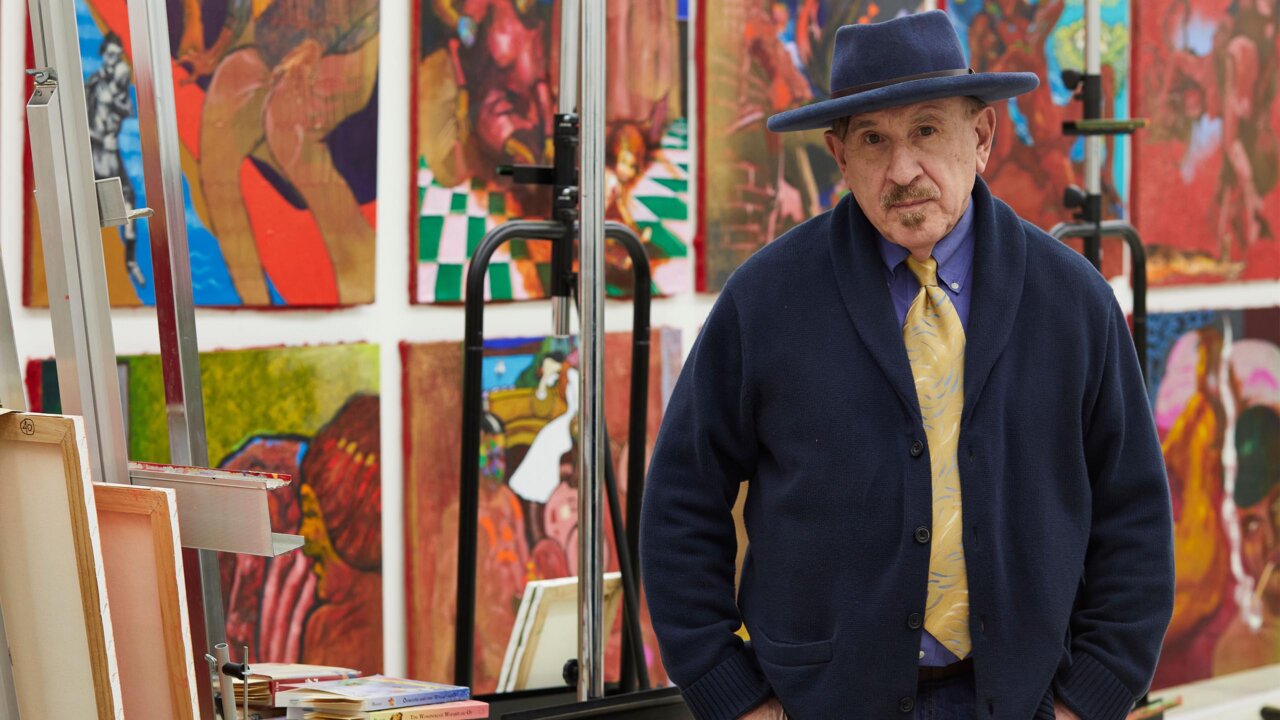 Farash Fellows
The Farash Fellowship for the Advancement of Jewish Humanities and Culture is a residency program that brings the world's leading Jewish artists, philosophers, and thinkers to Rochester. (Photo Credit: Kevin Blumenthal)
Overview
The Max and Marian Farash Charitable Foundation created the Farash Fellow for the Advancement of Jewish Humanities and Culture to offer a residency program that brings some of the world's leading Jewish talent to Rochester. During their residency, fellows are given "the gift of time" to pursue their work in a comfortable and supportive environment with occasional responsibilities to the local community. Archie Rand, highly praised Jewish painter and muralist, has been selected as the 2020 Farash Fellow. 
Due to the Covid-19 pandemic, Archie Rand's travel to Rochester is delayed until spring 2021. While in Rochester, Rand will have studio space to paint and share with the community his decades of celebrated work experiences, influences, and his artistic expression of traditional Judaic themed images in modern times. Rand's acclaimed work, "The 613" will be on public exhibit at the University of Rochester's Memorial Art Gallery from April 25th through July 18, 2021. Visit the Memorial Art Gallery for more information on the exhibit. 
Previous Honorees
Distinguished painter and muralist Archie Rand has had a notable history of pioneering and inventive Jewish visual projects. A storyteller defying categorization, he frequently engages text, religious subject matter, and comic book imagery in his painting. 

Rand's work is displayed around the world and is included in the collections of the San Francisco Museum of Modern Art, Art Institute of Chicago, Victoria and Albert Museum in London, Bibliothèque Nationale de France in Paris, and the Tel Aviv Museum of Art. There have been over 100 solo exhibitions of his work. He has created collaborative projects with many poets, among whom are Robert Creeley, John Ashbery, Kenneth Koch, Clark Coolidge, David Plante, John Yau, Bill Berkson, David Lehman, Bob Holman, Lewis Warsh and David Shapiro.

Rand was awarded, among numerous honors, the Achievement Medal for Contributions to the Visual Arts by the National Foundation for Jewish Culture, and he received the Guggenheim Foundation Fellowship. Formerly chair of the Department of Visual Arts at Columbia University, he is currently the Presidential Professor of Art at Brooklyn College, in the City University of New York. His home and studio are located in Brooklyn, New York.

The first recipient of the fellowship, Amos Oz was one of Israel's most prolific writers and respected intellectuals. A novelist, short-story writer, and essayist, he wrote in richly modern Hebrew, helping to forge a new Israeli identity. His 2002 memoir A Tale of Love and Darkness drew wide critical acclaim and was later turned into a movie, and his works have been published in 44 languages in 46 countries.